by Niyati Mehta MS.
Do you need a cleaning system for your busy house?
Try creating your chore system that is tailored to the weekly and monthly chores your individual home needs. This is a system that has worked for my family and not only was it fun to create, the kids enjoyed seeing what was left to do and allowed them to be flexible with what they needed to help with around the house.
Few min of your time parents to create visuals…..
I like to have things pretty when they are displayed on my wall, but function is important when creating chore system.
How to design and create?
I used a piece of fabric, with a red piece of card stock paper to write 'weekly' and 'monthly' on. Once I had that completed, I warmed up my laminator and placed my fabric with the centered card stock into a laminating pouches and gave it a push through for a sturdy system that will last through my children. You can even cover it in a ziplog bag and just protect it.
I then punched holes in each of the top corners and tied ribbon through each one, allowing it to hang on a large thumb tack.
Once I had that completed, I wrote down a chore on each clothes pin, being sure that I had evenly placed them on both sides to keep it balanced on the wall.  Put everything you can think of that needs attention on a weekly and then a monthly basis.
Once you have positioned all the chores on the weekly or monthly DIY chore system, be sure to flip each one over to write 'completed' on the back.
As a chore is selected by a child (or yourself) as you must be part of it with your children and is completed, simply flip the clothes pin over and show that this chore is completed. In our home, we expect all the clothes pins to show completed by Fridays for the weekly and by the last day of the month for the monthly.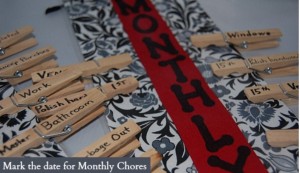 Each child can have their own favorite color which can boost them to complete the chores. Also which pin gets over for that day or a moth could be a motivational tip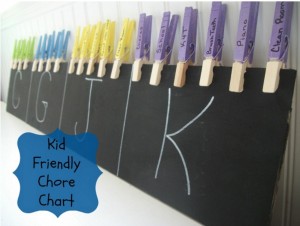 designed by Carrie from savings4six